SEAWOOD STYLE
6 COMMITMENT
Promise
・COMFORT staying in a house(Comfortable feeling like home)
・Superb view of IMPACT(IMPACT, approach to resort, Miyako Blue world)
・Unique HOSPITALITY(HOSPITALITY that can only be found here)
・SANCTUARY woven by light and shadow(light and shadow, SANCTUARY)
・Memorable DISCOVERY(DISCOVERY, new world, encounter)
・At last, SUSTAINABILITY continues into the future(Coexistence and evolution with nature)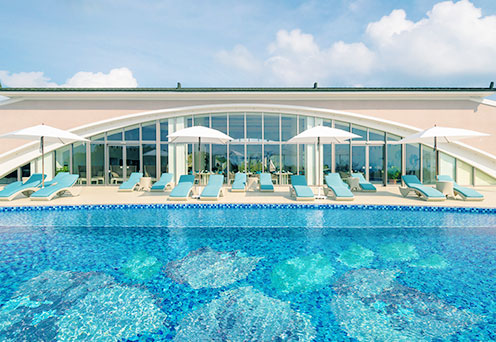 Resort design with architect Shin Takamatsu and Iida Sangyo Co., Ltd. collaboration
Iida Sangyo Co., Ltd. (headquartered in Musashino City, Tokyo)
built the resort town using a vast site of 130,000㎡ in a small remote island, Kurima Island,
connected to Miyako Island in Okinawa prefecture by Kurima Bridge.
Resort design is based on Japan's leading architect "Shin Takamatsu" and Iida industry,
which is the maker of single-family condominiums, collaboration.

What Shin Takamatsu and Iida industry aims should be safety "SEA-WOOD",
the sea and the sky and the forest of Kurima Island,
and coexist with this precious nature.
The villa type is selected for the Hotel Building so as not to obstruct the scenery,
and the entire resort is designed to be low-rise.
If you go to the street that connects 107 villa groups,
one of the largest in Japan with an electric cart, It's like walking around the city.

Sea, forest, sky, house, and street
"Seawood Resort Town" was born on Kurima Island.